Interactive Roundtable Discussion - a new format!
What makes APEX Global events different?
APEX Global is proud to present a new and unique format – Interactive Roundtable Discussions!  IRDs make an excellent venue for delegates to exchange, enable and excel, more meaningfully, on a variety of issues, with the tables featuring different topics hosted by industry experts.
Our 'Interactive Roundtable Discussion' (IRD) format will enable you to:
Engage in peer-to-peer discussions on themed roundtables
Interact with all delegates and speakers through roundtable rotations
Get inside expert advice on nuts-and-bolts issues
Learn hands-on by bringing case studies to the table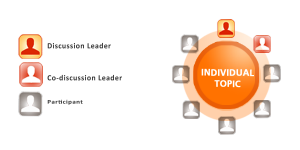 How do IRDs work?
Delegates are divided into groups of eight to ten
Each group will visit every table for a 45-min.discussion
Each table will be moderated by a subject expert and feature a different discussion topic
After each 45-min.discussion, each group follows the directional arrow to the next IRD
Keynote presentations and panels break-up the day